She Advocates for Public Education & Focuses on Hard Working Florida Families! A Conversation with Florida House of Representative Anna V. Eskamani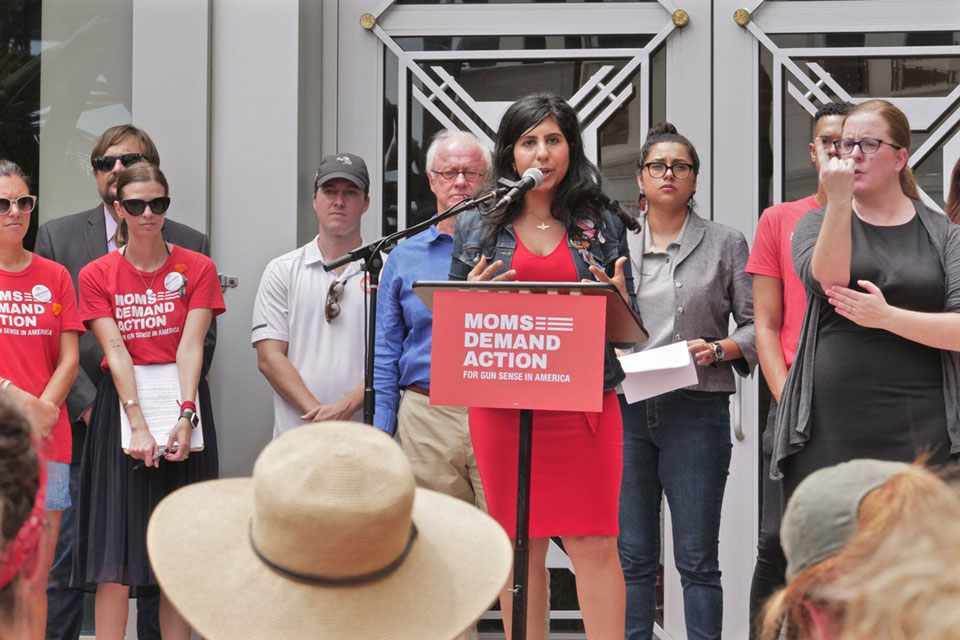 Q: After high school, where did you feel your career path would take you? 
AE: I graduated from Orange County Public Schools K-12, and really was not sure where life would take me. I came from a working-class background and my parents were immigrants from Iran. In 2004 my Mom passed away after a long fight with cancer— I was one of her main caregivers, and knew I wanted to honor her life through the act of empowering others and one way to do that would be through academics. So, I had no idea what career path to pursue but I knew education would be essential to my community impact. In fact, the first time I collected petitions was when I was ten years old, and it was with the goal of keeping my best friend at the time from being moved to a different lunch period. 
While in high school also became involved in high school theatre as a techie, inspiring me to be a passionate advocate for arts and culture today. 

Q: What was your first job? And how did it shape or impact you?
AE: My first ever paid job was a summer gig at Ross Dress for Less. I was 18 years old. My Mom worked in retail for most of her life – minimum wage jobs are not easy, and it inspired me to fight for people like my Mom every single day. When I graduated from UCF with my two undergraduate degrees, I began working at my local Planned Parenthood affiliate, rising after six years to become their Senior Director of Public Affairs and Communications. Planned Parenthood prepared me for hostile political environments where I learned critical management skills and had the honor to work alongside patients and providers. 
Q: Can you share with our audience, what your platform is and what you hope to accomplish as an elected official?
AE: Our platform is intersectional, values-driven, and focuses on hard-working Florida families. We emphasize the importance of protecting public education, enhancing environmental protection and moving towards renewable energy, ensuring access to health care for all, supporting small businesses, increasing access to affordable housing, passing gun safety legislation, fully funding public safety along with criminal justice reform, and fighting for equality for all. Our full platform is titled Anna's Opportunity Agenda and we have a business-focused agenda called 47 Means Business, both of which are on our website. 
Q: Why do you think women remain underrepresented in business and politics?
AE: There are several systematic barriers that have kept women out of politics and out of decision-making roles within all sectors including but not limited to business, academics, medicine, and sports. In regard to politics, barriers include stereotypes that women face while running for office and serving, the lack of financial support for working women – which means their efficacy to even consider running for office is limited – and the expense of running for office. Many women are caregivers to seniors and children, and the idea of running for office can seem out of reach. The historic lack of representation of women (and especially women of color and/or LGBTQ folks) has also resulted in women not envisioning a political future for themselves. In 2018 that changed forever, and more glass ceilings are being shattered. 
Q: What advice do you have for young women who want to pursue a career in politics?
AE: Follow your passion, identify your mentors, pursue volunteer opportunities, center your work around directly impacted people and always give without expectation. We need to go beyond transactional politics and towards transformational politics, where lives are positively impacted because it's the right thing to do—not because we get something out of it. 
Q: What is one skill you believe that women should have to facilitate a successful career in politics?
AE: Hard skills would include writing, communication, some statistical knowledge and a love for understanding issues. Soft skills would include a strong ability to listen and the ability to empathize with others. If I had to choose one skill it would be communication. 
Q: When will women in politics become the norm?
AE: Once we reach 50% representation, but even then, we will need to ensure a diversity among women based on cultural identities, faith background, and class. We are making huge strides, but change does not happen overnight. 
Q: What's the greatest fear you've had to overcome to get where you are today?  
AE: The fear of losing. 
Q: What's one lesson you've learned in your career that you can share with our audience?
AE: Ask for guidance but always trust your gut. Also, it is possible to disagree without being disagreeable but don't be shy to hold people accountable too. 
Q: Which woman inspires you and why? 
AE: My twin sister Ida V. Eskamani. We are cut from the same cloth and she keeps me both centered and focused. 
Q: What are some of the challenges you feel women face today?
AE: Stereotypes persist. When I first walked into the Florida House many colleagues – on both sides of the aisle—had already labeled me as a certain way, and it took time to define myself and break the stereotypes that folks had attached to me. In general, all women face deep economic barriers and healthcare disparities. We are underpaid compared to male colleagues, do not have access to reasonable paternal leave policies and in some cases no access to earned sick time. We face larger rates of sexual harassment and violence; we are discriminated against-- sometimes facing termination from work or eviction from apartments because of it. Our work as caregivers are unpaid though the economic toll and emotional toll is huge. Our access to healthcare is determined by income, meaning that not every women and girl in states like Florida have access to primary care and/or specialist care. 
Five Things About Representative Anna V. Eskamani

1. If you could talk to one famous person past or present, who would it be and why?
John Lennon. I am a huge fan of The Beatles, and admire John Lennon's roller coaster life, incredible vulnerability, and political activism. I would have loved to hear his perspectives and learn more about his inspirations. 
2. What were you like as a student? 
The biggest nerd you would ever meet, and I actually still am a student too – I am pursuing a PhD at UCF today and already have four degrees to my name, all from UCF. During my undergraduate years I graduated with two bachelor's degrees and only had one A-. 
3. If you were a superhero, what would your special powers be?
I would love to speak any language in the world with the hope of breaking barriers and ensuring every person feels included by speaking in their language. 
4. What app can't you live without?
My calendar. I live by my calendar app. 
5. Do you have any hobbies?
I love to run and occasionally write short poems too.