Going Beyond the Boundaries of Taste to Fit Your Lifestyle, Meet Orlando Chef/Owner Chelsie Savage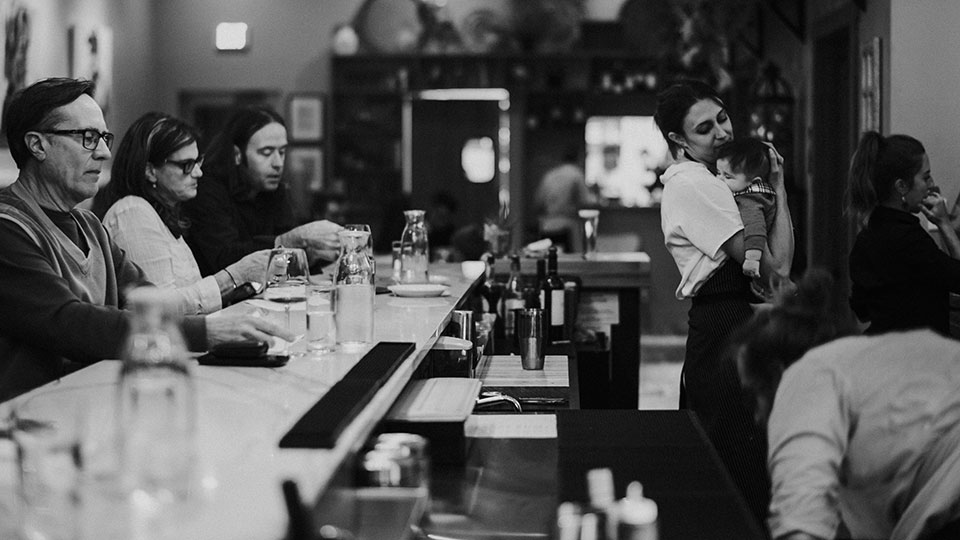 Q: Who or what inspired you to become a chef and when?
CS: I consider myself the accidental restauranteur. My friends and family always told me I was a great cook, but I thought they were just being kind. I was a health advocate with particular foodie taste buds, so I made what I liked to eat out of ingredients I believed in. As a holistic nutritionist, I was running my own health consulting company working to reverse clinical diagnosis with a whole lifestyle approach – in which a large part of that, was food! The feedback I kept getting was "your food is so good, I wish you would open a restaurant so I can eat your food every day". I heard it enough times that I thought, "maybe I should open up a restaurant so people can eat my food every day!" 
Q: What is your favorite meal to prepare?
CS: Chopped kitchen – honestly. Following a recipe or making the same thing twice feels restrictive to me. My favorite meal to prepare is the one where I go to the farmers market and pick out what's fresh and then look in my pantry and see what I can create. It can be literally anything from super traditional text book style meals to cross cultural dishes that break all the rules. I love to create and cook what inspires me in the moment and bring inspirations and presence back to the dinner table … To me, that comes from cooking what is fresh, in season and relevant in that moment.
Q: Tell us about some of popular dishes your customers come back for?
CS: Gosh to name a few – at The Sanctum I would say there would be a rebellion if I ever took the Sedona Bowl, Shiva Salad or Poke Crostini off the menu. The Sedona Bowl is a mash up of southwestern flavors including black beans, sweet potatoes and beets with a fresh cabbage slaw, raw cashew queso and vegan avocado ranch that I'm pretty sure could be sold on the black market. The Shiva Salad is a jam-packed kale salad loaded with butternut squash, coconut, candied walnuts, celery, raisins, sweet apples & more with one of my favorite sauces – our curry peanut. And then the Poke Crostini is the flavors of a poke bowl have a baby with avocado toast featuring ginger miso dressing, sriracha aioli, seaweed salad and wasabi for a modern, upgraded twist on a crowd favorite. 
At Proper & Wild we have a totally different menu which I just added a bunch of new things to but our Chickpea Fries (which are actually not fried at all but grilled rather) are a traditional pansies but I went with the name "chickpea fries" because it's more familiar. They're currently being served with a curry remoulade and harissa jelly – I think I send one of these out to almost every table. Also, our "Stella" is a truffle brussels sprout pizza with lemon zest, vegan alfredo and crushed red pepper (or hot seeds as we call them in my family), and it's prepared on our homemade fermented sourdough and one of my (and our guests) favorite items.

Q: How often do you change your menu?
CS: I like to change them quarterly but sometimes it's more frequent or less just depending on the business needs and what's inspiring us. We love to run weekly and daily specials as well because it gives our regulars something new to choose from and me and my team the opportunity to be creative.
Q: What are your future plans for Sanctum Café?
CS: I currently run three operations – The Sanctum Café, The Sanctum Coffee & Juice Bar (our quick service concept in Altamonte Springs/Longwood) and Proper & Wild (our higher end concept on Morse Blvd. right off of Park Avenue in downtown Winter Park). Future plans are always to revolutionize the way Orlando thinks about healthy food and improve the health of our community. We will continue to grow if it's organic and our community is voting for us to fulfill this purpose.
Q: What do you love most about what you do?
CS: I love that I authentically love going to work every day and am lit up about the work we are doing in our community. It is a labor of love for sure and some days things get absolutely nuts but to see people voting for healthy, good for you food and being able to lead a team that is authentically excited about what we're up to tells me that the consciousness of our community is definitely headed in the right direction.
Q: What's the greatest fear you've had to overcome to get where you are today?  
CS: I am a perfectionist in every sense of the word and in order to run three restaurants I can't be the one that serves every table, makes every recipe, answers every phone call and sign every check. This means there are a lot of people representing me and my brand and me- the compulsive "I'll do it myself so that I know it's done perfectly" girl has really had to embrace the model of working through others. I spend a lot more time these days supporting my teams, training, developing and really have had to overcome my drive for all aspects to be perfect at all times. The to-do list is never done, there are always areas to improve and sometimes balls are going to get dropped and I've had to learn not necessarily to be complacent, but to be okay with the fact that there is work to be done and not let the fact that it's never "done" overwhelm me. 
Q: Can you tell our audience one of your most memorable moments your career?
CS: A few months after I first opened The Sanctum I finally worked up the nerve to go home during a dinner service. I was sitting on my couch and someone posted on social media a beautiful picture of our Mo'Rockin (a popular, Harissa Cauliflower Bowl) with a caption of how they weren't feeling well and that was all they wanted to eat and someone special in their life had brought it home for them. I remember feeling for the first time so moved that someone outside of my immediate family was not feeling well and the food they wanted to make them feel better was my food! And second – was that that was my food, and it was beautiful and perfect, and I didn't have to make it! The team handled it, executed it and delivered it while I was getting some well needed rest and that was the first time I felt that this whole opening a restaurant thing might actually be able to work out. 
Q: What's one lesson you've learned in your career that you can share with our audience?
CS: I learn a lot of things daily in my career so to sum it up in one lesson is tough. But the one that is coming up for me right now that I will share is no matter what you do, there are some people that are going to love you for it, and other that will hate you for that very same thing. Keep your side of the fence clean, lead with compassion, integrity and composure and never stop doing the hard work to grow yourself as a leader and looking at yourself, and who you're being. Criticism is tough and emotional. Trust the work that you're doing, trust your gut, and trust that your tribe will find you.
Q: Which woman inspires you and why? 
CS: Currently – my business coach, Laura. She's such a boss and always has the best insights and is so great at getting to the roots of issues. She's climbed to the top of her field in her career while being a Mom, a wife, starting a side hustle while cultivating balance in her life. Whenever I'm in deep I think "what would Laura do" and that normally gets me through! 
Q: What are some of the challenges you feel women face today?
CS: Gosh I think it's so tough to make a blanket statement for a challenge that all women face. But I can share a challenge that I face that I think some other women may be able to relate with is to find the balance between drive to be successful in your profession and a desire to be the sole caretaker for your child. I absolutely love and am lit up by the work that I'm doing and conceptually know the work I'm doing is and will make a positive impact on my son's life. And that doesn't make it any easier leaving him to go to work after carrying him for 9 months, birthing him, breastfeeding him and him literally being my heart outside my body and the biological draw that makes me want to be with him all day every day as I watch him grow, learn and explore. It's a constant balance that I'm working to navigate and all gender roles aside, I can share my experience as a woman and mother is something I'm constantly personally challenged with.
Q: What advice would you give to young women who want to succeed in the workplace?
CS: Go after what you want. Drop any stories of you can't because you're a woman or you're young – become the CEO of your own development and become the best at whatever it is you want to do. The success will follow.
Five Things About Chef Chelsie Savage

1. If you could talk to one famous person past or present, who would it be and why?
Brene Brown – that woman is so powerful and alive in the questions she asks and has a fierce awakeness that is so inspiring to me. I would love so soak up some of that secret sauce in person.
2. What were you like as a student?
"A" student – all the way. If it wasn't a 100% I wanted to know what I missed. Checked all my answers forward and back to make sure I didn't make any mistakes and even if I could skip an assignment or a test and still keep my "A" I wouldn't because it didn't feel right to not always do my best. 
3. If you were a superhero, what would your special powers be?
To always be able to see clearly the compassionate response in any conversation and to always be able to find the words to echo what my heart feels. That or being able to be in multiple places doing multiple things at the same time because if I could do that I could seriously get some shit done! Ha!
4. What app can't you live without?
My baby monitor app for my phone - Nanit! I can follow along with my son's nap schedules even when I'm working running restaurants and can peep in to see him sleeping if I want. I love my job, but my favorite role I've ever been is Mom.
5. How do you release stress? 
Exercise. Yoga is my #1, and also, somedays in particular I like to hit the pavement running and crush some miles – bonus I can do this with my kiddo. But sweating somehow everyday is definitely a commitment I keep for myself to keep me balanced and blow of stress.