Preparing Young Girls to be the Next Generation of STEM Innovators. An Exclusive Interview with Dr. Laine Powell, Founder & Executive Director of Tech Sassy Girlz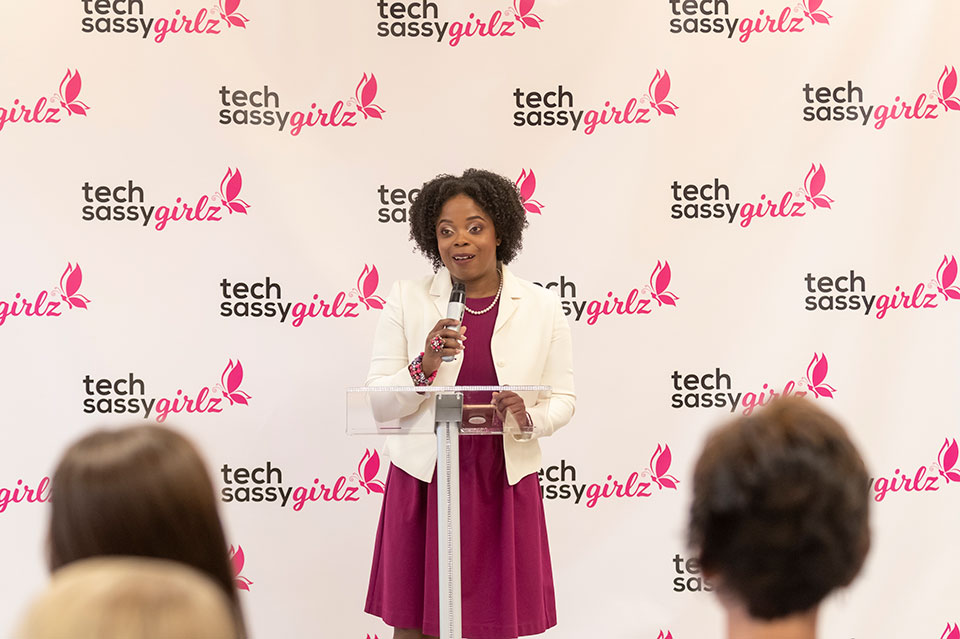 Dr. Laine Powell is a Vanguard in Advancing Young Women to be Leading STEM Professionals & Inventors. Tech Sassy Girlz is the signature program of Collegiate Pathways, Inc., a 501(c)(3) nonprofit organization based in Orlando, FL. Their mission is to empower middle and high school girls to pursue science, technology, engineering, and mathematics (STEM) fields through college preparation, career readiness, mentoring and entrepreneurship.
Q: After college, where did you feel your career path would take you?  
LP: After graduating from the University of Florida, I pursued my master's degree at the Pennsylvania State University. Upon graduation, I initially planned to move to Atlanta and start my career in higher education working in the athletics department. However, after much consideration and a marriage proposal from my boyfriend, I moved to Orlando instead. My undergraduate and graduate experiences lead me to develop a passion for helping students. While I was uncertain at the time what my career path would entail, I liked the idea of being close to my family in Miami. I also knew that I was destined to work in higher education but needed to figure out how to integrate my passion for helping students while introducing them to technology. 
Q: What was your first job? And how did it shape or impact you?
LP: My first job was during high school when I worked at a law firm in Miami Beach. I assisted the lawyers and partners at the firm with research on cases. I learned so many invaluable lessons working there. One of the partners at the firm, Mr. Robert Grover, served as my mentor and taught me a lot about business, perseverance and grit. He also taught me that although you may not win every case, the journey is most important and that's something I'll never forget. 
Q: For those in our audience not familiar with Tech Sassy Girlz, tell us about the programs that are available?
LP: Established in 2012, Tech Sassy Girlz (TSG) is the signature program of Collegiate Pathways, Inc., a 501(c)(3) nonprofit organization. Tech Sassy Girlz is an open access, self-select, informal learning program. Our mission is to empower middle and high school girls to pursue science, technology, engineering and mathematics (STEM) fields through college preparation, career readiness, mentoring and entrepreneurship. 
Tech Sassy Girlz executes its mission by delivering comprehensive hands-on learning experiences through classes, workshops, hackathons and conferences focused on computer science, technology and engineering. Additional components of our STEM program include college and career readiness, access to women mentors from STEM-related fields, industry tours and STEM internship opportunities. To date, over 1,000 girls have been introduced to STEM.

By helping the girls attain valuable technical skills, Tech Sassy Girlz is preparing the next generation of innovators, technologists, makers and budding entrepreneurs which will not only benefit the girls individually, but ultimately the communities in which they live.

Our programs include: 

Tech Sassy Girlz Code –an afterschool program for middle school girls where the students learn how to code 
Pearls in Tech – a workforce development program that prepares high school girls for STEM internship opportunities. Students select a program focus area in software development, web design or entrepreneurship. Upon completion of the program and passing a micro certification exam, students are eligible to apply for a 6 – 8 week paid internship. In 2019, we successfully placed students at the City of Orlando's IT department and a local software development company, AceApplications. We look forward to expanding the program this year with our newly established partnership with Lockheed Martin.  

Q: Tell us about your role as Founder & Executive Director of TSG. Do you have plans to expand?
LP: Representation matters. I started Tech Sassy Girlz to address the lack of minority women in STEM fields. My role has been focused on moving the needle in increasing the number of Black and Hispanic girls who have access and are introduced to women in STEM. Creating these opportunities are critical in diversifying the STEM pipeline. In order for us to accomplish this, we have to establish strategic partnerships with companies and organizations that are interested in diversifying their workforce. Of course, our secondary and higher education partners are critical in maintaining our ecosystem of educating our youth, providing opportunities for them to attend college and/or pursue a STEM career. 
Developing relationships and establishing partnerships with companies who champion diversity and are actively seeking ways to address the lack of representation in STEM, have allowed us to:

Expand into more than 7 Orange County Public Schools
Award over $20,000 in STEM scholarships for students to pursue higher education
Conduct 28 STEM industry tours and 15 engineering college tours 
Most recently, we've expanded our Pearls in Tech program to an online platform. Providing a virtual learning experience gives our students an opportunity to continue to enhance their technical skills while leveraging the expertise and mentorship from our team. 

Q: What has been your biggest accomplishment with TSG?
LP: I am passionate about addressing the gender and diversity gap in tech. Growing our first annual Tech Sassy Girlz Day conference from 40 students in 2012 to 500 students in 2019 at our 8th annual conference will forever be etched in my mind. The free, daylong event introduces middle and high school girls to engineering design challenges, coding, and inspiring women in STEM. This could not have been accomplished without the support of our staff, board, volunteers and the amazing partners who supported the event. 
Q: If someone wrote a biography about you, what do you think the title would be?
LP: Epic Dreams: How One Haitian Girl Changed the Tech World
Q: How can women achieve more prominent roles in their organizations?
LP: Having a sponsor is critical to us achieving more prominent roles. When I graduated from Penn State with my master's degree, I relocated to Orlando and worked at the University of Central Florida (UCF) as a counselor for two years. I was then offered an opportunity to lead a department within UCF. I was terrified. The person who recommended me knew that I was passionate about working with students and thought that I would be a great fit for the position. I discussed the opportunity with my husband and one of my mentors and they both thought I should go for it. I subsequently accepted the position. Sponsors open doors that otherwise would remain shut and can advocate for us when we're not in the room. 
When I first started my professional career, I would often hear "closed mouths don't get fed." This notion requires us to be diligent about communicating our goals about what we want to accomplish and networking to achieve those goals. And at times, that may be uncomfortable. I left my comfort zone the moment I accepted the leadership position at UCF, and I must say it was one of the best decisions I've made in my career. I haven't looked back since. 

Q: Which woman inspires you and why? 
LP: Michelle Obama inspires me because of her passion for advancing education for girls and women, empowering women and succeeding despite the odds.   
Q: What are some of the challenges you feel women face today?
LP: I am passionate about addressing the gender and diversity gap in tech. Lack of representation is still one of the major challenge's women face today, especially in tech. By 2028, it is estimated that there will be 4 million jobs in computing. Women currently represent only 26% of the computing workforce in the United States with 3% being African American women and 2% Hispanic women. I'm here to change that. 
Five Things About Dr. Laine Powell

1. Do you have a hidden talent?
I play the violin. 
2. What were you like as a student? 
I loved going to school! My parents immigrated from Haiti and education was one of those non-negotiable discussions at home. One of the main values that was instilled in me as a child was education. Growing up in a Haitian household, my father used to always say, "education is the one thing that no one can take away from you." I was a very curious student and wanted to know how things worked and always wanted to learn more. With four degrees under my belt, I'd say I took his message to heart. 
3. Favorite city and why? 
Miami is my favorite city because of its richness in culture and diversity. And of course, it has a plethora of great Haitian restaurants! 
4. What app can't you live without? 
It's hard to pick just one, but my top five apps are my calendar, Dropbox, JIRA, AirTable and Napster.
5. Is there something else you would like to accomplish? 
Yes, there's much more work to be done as it relates to gender parity, diversity, and inclusion in STEM related fields. My mission is to help shape the future of what a diverse tech industry looks like by building on what we've started with Tech Sassy Girlz.