Emmy Award Winning Journalist & Best Selling Author, Leeza Gibbons, Shares Her Insights on Today's Challenges For Caregivers & Maintaining a Positive Outlook.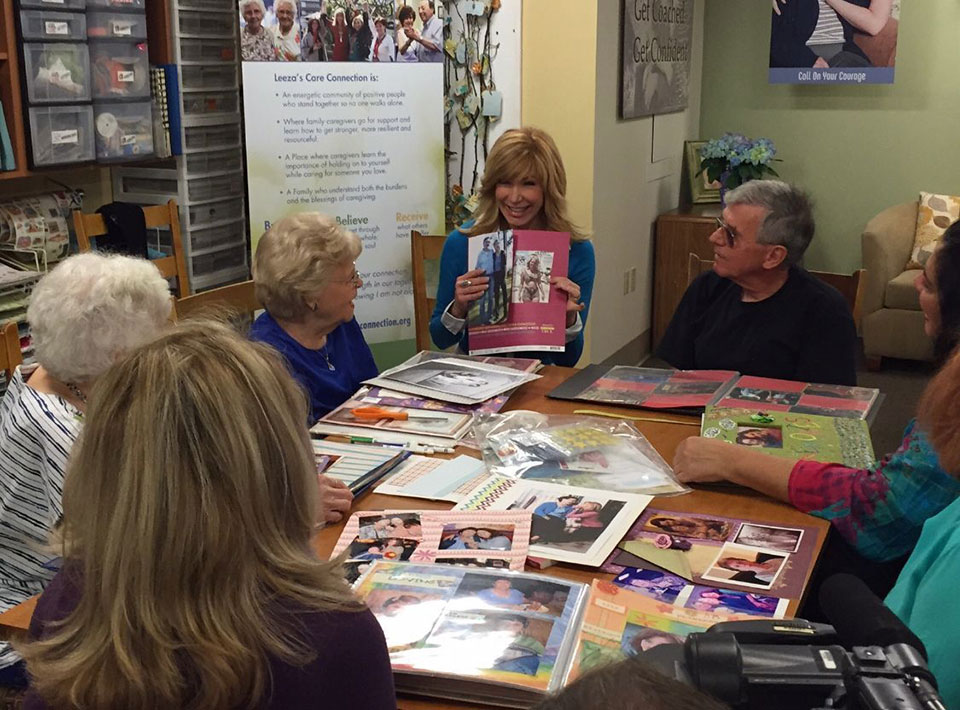 Q: It's safe to say that you're best known for your TV work on Entertainment Tonight, Leeza, and 2015's Celebrity Apprentice.  What thoughts come to mind about that body of work? 
LG: I'm a lucky girl. I have had a career that has been challenging, fulfilling, and fun! I studied broadcast journalism and have been on a path of wherever the stories took me ever since.  After reporting in TV and radio news, I became an entertainment correspondent and anchor before the advent of social media, which allowed celebrities to break their own story.  Until then, it was pretty much right what they used to say about ET, that we provided an "all-access pass" to all things Hollywood.   
One of my early professional dreams was to have some of Dick Clark's abilities to host virtually anything and make audiences feel welcome. I was blessed to have met Dick, worked with him, and become his friend. Now, when I host something like The Rose Parade, I often keep his mentoring in mind.  Even though I have a Ph.D. in drama avoidance, I loved being on Celebrity Apprentice!  Competing on the show allowed me to use my business skills to win the grand prize and invest it in opening Leeza's Care Connection in my South Carolina hometown.  It was a dream come true to offer our free services for family caregivers in Columbia, where I grew up.  

Q: Tell us how your education contributed to your success and how that path is the same or different for new journalists? 
LG: I was trained as a broadcast journalist.  Barbara Walters was one of my big inspirations.  When I began reporting at ET, I was accustomed to a reporting style that was objective; providing only a conduit through which the stories made their way to readers, listeners, and viewers. When I was hosting and producing a single topic talk show, The LEEZA show, the format required that I editorialize and offer an opinion and lead with it too often, it was liberating and allowed for the kind of passionate energy that I admired about Barbara Walters. Many storytellers take a variety of paths to get to where they want to go.  I believe how you do one thing is how you do all things, so if excellence is your goal, buoyed by curiosity, then you'll get there.   
Q: Did PBS's My Generation, which addressed a more mature audience, represent a shift for you; if so, why? 
LG: It was a deliberate choice to address topics that were relevant to an audience that found itself at a turning point ...an audience like me. Boomers are reinventing and eager to explore all kinds of transformations. We believe that who you were yesterday is not who you have to be tomorrow, so we're looking for the inspiration to recreate ourselves. "My Generation" delivered the stories of celebrities and others who had accepted the challenge to re-boot and re-create their lives and re-write their narratives.    
Q: What do you see that is different from interviewing styles from the period you were on the air to today?
LG: Today, things are much more transparent than when I first began Viewers' insatiable appetites to "get inside" and "lift the veil" led to more raw reporting and a genuinely authentic exchange preference.   
There is still brokering for interviews and negotiating for access. Still, the expectation is for interviewers to uncover more than "just the facts" and interview subjects to drop any facade and get real. Today, the best way to do that is to by-pass a reporter and go straight to fans through social media. 

From skilful politicians to creative celebrities of all kinds, intimate relationships are built on social platforms, but interviews with reputable outlets or with interviewers who have perceived gravitas can often maintain, boost, or augment them. Look at Donald Trump Twitter was more important to his victory than his political advisors and mainstream media exposure. However, events like the interviews with Lester Holt and George Stepanopolis can still do damage.  
To read more of our exclusive interview with Leeza Gibbons, click here.