She's The First to Open a GLO30 Membership-Based Skincare Brand in Florida. An Exclusive Interview With Dr. Aparna Sharma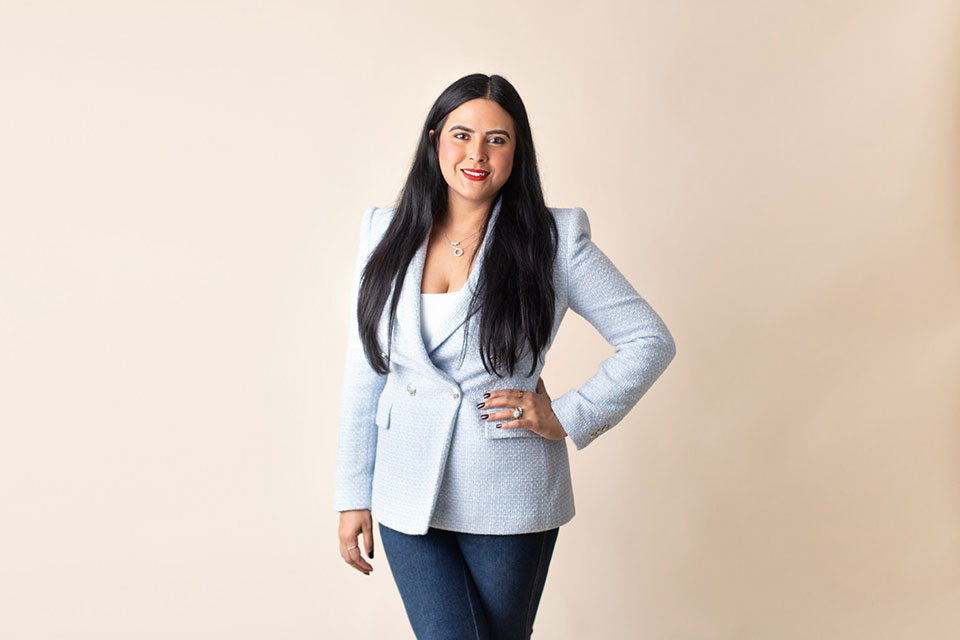 Q: After high school, where did you feel your career path would take you? 
AS: Interestingly enough, I was voted "Most likely to succeed" in my high school superlatives. I knew even then that I would not choose a traditional path and that I wanted to set my sights high. 
I was certain that medicine was my heart, but I studied foreign affairs, got my MPH, and had planned on using my medical degree beyond only the bedside. I wanted to use that knowledge in different scopes and capacities. What I did not know then though, was that I would become an entrepreneur and own a business that truly helps people like GLO30.
Q: Tell us about your professional background prior to joining the franchise system.
AS: I am a board-certified Internal Medicine physician, did my undergrad and residency training at Georgetown University, medical school at New York Medical College, and obtained my MPH at George Washington University. I have practiced as a Hospitalist for the last decade, as well as most recently a Physician Advisor and Chief Quality Officer. 
I truly believe Medicine is the best career. One of the best parts is that you can work in so many different capacities whether it be bedside, administrative, or in business. I sincerely feel it is a privilege to be able to care for people. I absolutely love working with patients and with people to make them feel better, give them a better quality of life, and contribute to their wellness.
Q: What pushed you toward franchise entrepreneurship with GLO30?
AS: I really have always believed that it's important to not only reach for your full potential, but also to do what brings you joy and lets you create a life for yourself. I have always enjoyed medicine, and truly love working with patients, but more than anything I wanted to create something amazing for people, that I could do on my own and the way I wanted to. 
I want to build something for myself and for others to enjoy, something that I can be proud of and share with others that not only improves their wellness but also brings them joy.
Q: How does GLO30 differentiate from other skincare services?
AS: I have been a member of GLO30 since its inception over 10 years ago, and what I found to be the most exciting part was that I got great results month after month. At the time, I was struggling with my skin, especially before my wedding when I really wanted to improve my skin health. GLO30 delivers the best facial services and in a way that is exciting and accessible for people. 
Q: What can the community expect from GLO30?
AS: I think the Orlando community will be super excited to have GLO30 because there isn't any other place in town that offers what GLO30 does. We offer the best facials and skincare services with consistency and products that work. This is not just an express service, nor is it an overwhelming number of different services that have variable efficacy. 
We offer a curated list of proprietary services that give you the most for your time and effort. We also make it exciting every month, so that you get something different, but tailored to your skin, the season, and where you live. We also offer new and exciting products that are continuously evolving. 
Q: Do you have aspirations to expand further in the state with additional franchise units? What is the brand's growth plan for Florida?
AS: Absolutely! The plan is to start in the Orlando area with a few units, and once those are set up, to be able to provide the same GLO30 services to other parts of Florida or in partnership with another franchisee. I truly believe in the brand and the unmatched quality that GLO30 offers.
Q: What is one word of advice you can offer to young women who want to reach your level of success?
AS: Don't ask for a seat at the table, create your own table.
Q: Can you tell our audience one of your most memorable moments of your career?
AS: Of all the success I've had and things I have done, signing on with GLO30 and becoming a business owner was my most memorable. It felt empowering, and also freeing to be able to work towards my own business. 
Before that, I think my first day as an attending physician after I had finished my training was the most memorable. I had spent all those years trying to get to that point, and once I did, I realized it was such a privilege to be able to care for people but also a huge responsibility. It was so rewarding, and life changing and will always define me to my core.
Q: At the start of your career, what do you wish you had known?
AS: I don't think I would have wanted to know all the challenges or paths that I would go down or the lessons I was going to learn. I truly think every experience is a lesson to learn from and an opportunity. There have been moments that were inspiring, and others that were unfair, but I left knowing how to navigate around those things, so both were useful. 
Q: Which woman inspires you and why?
AS: There are several women that inspire me and are empowering to me, but the most would definitely be my mom. She has always taught me to be independent, stand on my own two feet, and encouraged me to pursue anything I wanted in life. 
She herself moved across continents, raised four children, created, and worked in her own business all while running our home, and has shown me more strength and wisdom than I could have learned from anyone else.
Q: What advice would you give to young women who want to pursue their dream and start a business?
AS: I would want them to know their worth, and that despite what they may think, they are ready. I think too often women think they are not ready; that they need to be more prepared, need help, or are not worthy of being the CEO of their own company. 
You are worthy and you were ready before you knew it. Women are incredibly strong, persistent, intelligent, and capable of managing any company.
Q: What advice would you give to young women who want to succeed in the workplace?
AS: I think success in the workplace can mean a lot of things. My advice is to learn what you think success is and then go after it, but don't fall into the trap of what others tell you is success or where you should be. 
If you want to climb a ladder, make sure that what's at the top is what you want. But if it isn't, don't waste your time and go to where you are meant to be and succeed on your own terms. 
I used to think having a seat at the table was what I wanted, but when I got there, I realized that it was not the table I wanted to be a part of. Not only that, but I also realized that I had far exceeded their potential and needed to create my own table.
Q: Can you tell us how you manage your work life balance?
AS: I am not sure there is a true work life balance, but there are times when you may have to dedicate yourself to work and then times where you have to prioritize your personal life and family. 
I think it ebbs and flows and you have to be responsive to the things that need your attention. I always think, "we are all living on borrowed time," so I try to live life to the fullest, take those trips, take the opportunities that come my way, take risks, and enjoy the ride. 
But most importantly, I don't take a single day for granted that I have with my family and loved ones. I make every effort to spend as much time with them all while enjoying the journey to building on my career.
Q: What's your advice for women in male dominated fields?
AS: Don't let their voices drown yours out and know your worth at all times. It's easy to let people in those fields make you feel less than, or that you are not as qualified. But I urge women to look at those people in charge, and ask themselves, "What do they have?" or "What did they do to get there?" For many people in those fields, it was not qualifications or experience or something they had over someone else, but rather they felt entitled to their position or confidence in themselves. 
I have seen so many people in positions they were not qualified for, but continued to be promoted, simply because they put themselves out there, and felt they should be in those roles. Women need to have that same level of confidence and entitlement to positions in every field. 
Five Things About Dr. Aparna Sharma

1. What's your favorite thing to do in your free time? 
To be honest, if I am not working, I love to spend time with my husband or go visit my family in Maryland. I love having a nice dinner out with my husband or taking short trips. And when I go visit my family, I love cooking and trying new recipes.
2. Who is the most fascinating person you've ever met? 
My dad. He is my best friend, and most people think he is quiet, but he isn't and he's extremely fascinating. He moved to the US like many immigrants and created an amazing life for us here. He is worldly, knowledgeable, and progressive in his beliefs. 
He randomly surprises me all the time with tales of his life or how he sat with tigers in a jungle, cured himself of another thing, it's just always something with him. He has always made me feel like I could do anything in the world and has always encouraged me in every step of my career. I am fortunate to have such a strong foundation, because I truly do feel it's where my confidence was born from, along with my lack of fear to pursue anything. 

3. Among your friends, what are you best known for?
I think my friends often will reference my style and love for art, fashion, and all things beauty. They will tell me I am their personal "influencer" lol. I am by no means an influencer, but I think they appreciate my eye for things. Since I was a kid, I have always loved the art of creating, and expression through our aesthetics whether it be fashion, interior design, or any other art form. 
4. Tell me about the best vacation you've ever taken. 
My husband and I have traveled the world, we really made it a point to try to see as much as we could before we were going to settle down or plan a family. 
 Our favorite trip was probably Patagonia. It was absolutely stunning, but we also challenged ourselves and did an incredible, but strenuous, 10 hour hike up to the glacier lake. It was extremely difficult and tested my fear of heights, but it was so rewarding knowing that we had worked up to it and could handle the mental challenge aside from the physical challenge. 
5. If you could go back in time to change one thing, what would it be? 
In my lifetime, I would like for there to be true gender equality, no gender-pay gaps, women reaching the same heights as men, as well as women being treated the same as men in the workplace, at home, and in all societies. 
If I could go back in time and somehow make it a gender equal or female-dominated society, I wonder how different the world would look today? If our founding fathers were founding mothers. I think women can lead and achieve so well and we have not tapped into that resource as much as we should or could yet in the world.