She's Learned in Life that it's Important to Have a Hand Available to Lift Others Up. Meet GROW Central Florida, Founder & Executive Director Colleen Gonzalez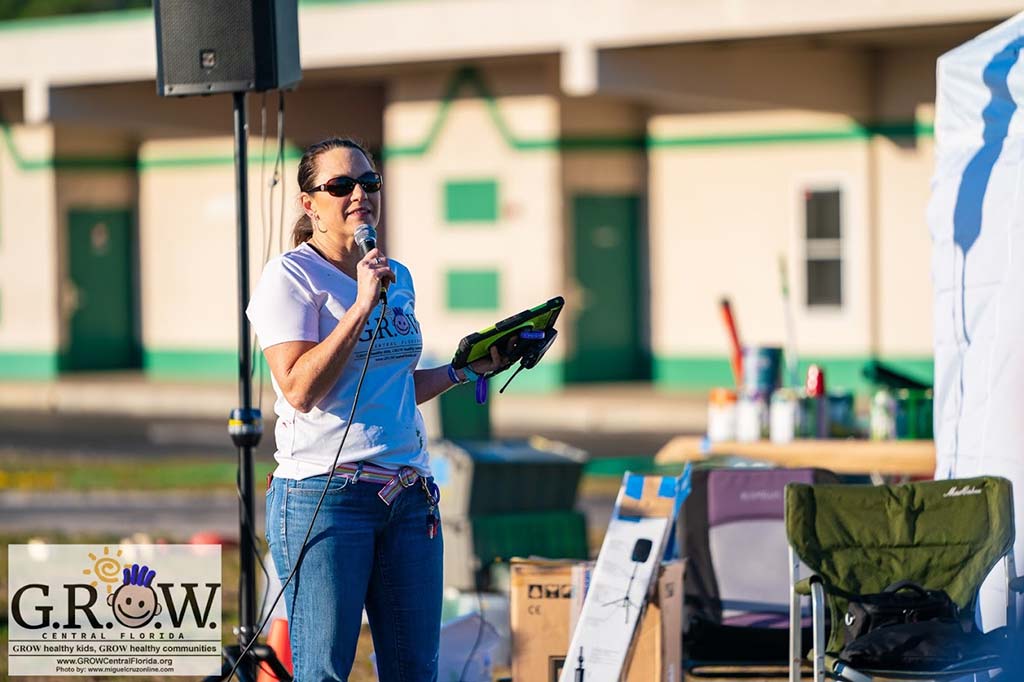 GROW stands for: Grass Roots Outreach Within. Their mission is to make a positive difference in children's lives by increasing opportunities for healthy living. GROW Central Florida works to promote environments that support increased opportunities for physical activity and healthy living for Central Florida school children.
Q: For those in our audience not familiar with the nonprofit "Grow Central Florida" can you tells us about it?
CG: The story of myself and GROW Central Florida began modestly enough in 2009. After a decade of experience in corporate human resources, I left my job to become a stay-at-home mom … seeking to become more involved in my child's Seminole County, Florida school. I started volunteering to help with health programming. By 2015, my work had evolved to coaching and organizing other parent volunteers; that year, I founded GROW Central Florida, a 501(c)3 non-profit whose acronym stands for Grass Roots Outreach Within. A public school parent-outreach organization, GROW works to promote environments that support increased opportunities for physical activity and healthy living for Central Florida schoolchildren by partnering with grassroots volunteers and unfunded school health and wellness programs. By 2018, running GROW had become my full-time job.
Q: How has GCF made a difference and what impact do you still wish to see GCF make?  
CG: I love that we get to support and work with volunteers in all school, especially those in low resource communities. When parents, teachers, coaches, social workers, deputies, ext. …. have come to us with the will to do good but need support in finding a way, we love assessing the situation and finding a solution. Many times, the solution can be easily achieved because we know about a grant, know a person, we have some in-kind donations in storage they can have or have materials they can borrow for an event.  
In the future, we are working hard to establish GROW Central Florida so it can provide support for our children and public servants for decades to come. We are a one-person nonprofit with over 40 volunteers. Thanks to our partners with the UCF School of Public Administration and Philanthropy, we have established strategic plans and have the addition support of interns. In the future we would like to slowly expand support to our Seminole County middle schools and expand similar support to school based volunteers in the surrounding counties who want to have health and wellness programs like before or after school run clubs.  

Other Objectives: 

Help build support for teachers who strive to have active and productive recess periods for their students by providing durable goods and resources. (recess toys are like tissues … they are nice to have but, if a teacher wants them … it is another thing they must buy).  
Expand our community ball drive for law enforcement. What better way to foster positive relationships between youth in low resource communities and trusted adults? Through simple acts of kindness and a love for sports and play.  
Establish a playground trust fund so we can provide low resource schools with support / matching funds for play zone improvements. It hurts my heart to know that playgrounds in low resource communities / title 1 schools are not as bright and beautiful as schools with lucrative PTA's. 

Q: What is it you like to say to potential donors and volunteers?
CG: Now is the time we need to GROW the good. Our children, teachers and deputies are being all placed in difficult stressful and often dangerous situations. The elementary school years should be a time of joy and blissful play. For our teacher and officers / deputies – they go into their career with a servant's heart. These professionals care about the future of our children and our communities. By giving them basic resources to exceed expectation and impact a child, we are fostering a positive relationship with a trusted adult. That one positive interaction may change a child's life forever. And it may refresh a person soul and remind them of their "why" … why they went into their profession.
The 2020-2021 school year will be the most challenging yet. We are working on a virtual cross-country running season that will be family engagment / school based (if possible). It will be all inclusive like our normal running program and be offered to students across central Florida. Because we can not place a burden on schools, the overall cost will be greater than a traditional running season. We will mail materials to the home at the start of the season with safety running / walking tips along with warm up and cool down stretching. Registered participants can select to pay the full price to cover their child's participation, partial or participate at no cost for the child. Parents will also have the chance to pay and participate or simply donate to help sponsor another student. If a parent or adult registers, their registration will cover the cost of a child who needs to run for free.  

For elementary recess play – we are working with our amazing board of professional educators to roll out a touchless, center based physical activity "zones" using what all school have … Fencing. Our creative sign will allow teachers to take their class out to play zones where students can self-engage in play by reading signs and following directions. Unfortunately, all schools need this support and community donations of $300 will fund a school to have these play zones. 

In short - order to further become established and serve Central Florida, we need donor support. 

Q: After high school, where did you feel your career path would take you? 
CG: After high school, I did not know exactly what I wanted to do. Due to learning disabilities, I was held back in 1st and 3rd grade. By the time my senior year arrived I was days away from my 20th birthday. If there was one thing I knew, it was I knew not to EVER quit. I also had the best boyfriend in the world who always saw my potential and encouraged me to press on and press hard. I started college at Valencia Community College in remedial classes (as my test scores were too low for college classes). Once I figured out my groove, I did much better in college then high school. I found, although I may not have been the fastest and smartest … I was an extremely hard worker who knew how to problem solve beyond the normal path other people took. I also knew I could succeed by forming structure for myself and others. That is what drove me to Rollins College. Organization Behavior with a concentration on training and development was for me. At the time, I was 22 married to my high school sweetheart who was working for the Winter Park Police Department as an officer. We were rolling the dice committing to a Rollin's College education, we could not afford a Rollin's College education – but my loving husband understood that small classes and high structure was what I needed to thrive.  
Q: What was your first job? And how did it shape or impact you?
CG: My first professional job out of college was working for Wyndham Hotels and Resorts in Key West, Florida. I was hired as the Human Resource Manager to help with the conversion of three Key West hotels. My job was to focus on transiting them from Marriott brand standards to Wyndham Hotels and Resorts brand standards. The task was going to be a challenge, but I was up for it. I liked structure and helping other fall in line when structure was needed. Under the leadership of HR Director Carol Hogue, she pushed me, challenged me, and never answered one question … yet always walked me through coming to my own conclusion. She was as tough as nails, yet would look me in the eye and say, "I push you because I believe in you. I know what your capable of". I felt like I was a world away for the high school graduate who had to start college by taking remedial classes to officially start college.     
Q: What's one lesson you've learned in your career that you can share with our audience?
CG: I don't have just one. I have several I try and follow every day.  
Always take the time to listen and learn, then come to the table with ideas, a plan and solutions vs complaining about a problem.     
Look to always have a hand available to lift others up. As you climb your mountain … your going to need support and guidance from the person ahead of you.   
It takes time for anything to grow. Whatever the opportunity may be – we need to gently tend to it (whatever that may be), clean off the dust, pick the weed and apply the needed ingredients to get (whatever it may be) to flourish and bloom.    

Q: Which woman inspires you and why? 

CG: I have several: 
Michelle Obama for all obvious reasons. I love learning about all the wonderful things she has done for children's health and wellness. In addition, I love to see how she inspires and empowers young ladies.  

Seminole County School Board members Karen Almond and Tina Calderone. Both ladies have taken time to mentor and guide me in this journey of service. Their honest feedback, guidance, leadership, and time has helped we get to where I am.   

My other is a little lady … a student volunteer who started volunteering with us at age 11. Alexis P. is now 13th and is in her 10th month of cancer treatment. Alexis's dad came to me when she was in 6th grade and expressed that Alexis really wanted to volunteer with our running outreach and help revitalize playgrounds. This young lady opened my eyes to the power and positive energy our teens have. This past year, she has been a trusted youth leader and advisor for our nonprofit. Even when things were extremely tough, her positive forwarding thinking attitude and sense of humor left me feeling refreshed and inspired. When she was first diagnosed, I asked Alexis how I could support her. Her request was too busy her mind and help us revitalize a playground at a title 1 school. In the end, students from her school and various high schools volunteered in her honor as she was hospitalized and not able to physically help with the project. Now as we go into the 2020-2021 school year, we now have a team of student youth leaders who all on their own have risen to GROW the good and help with tasks such a marketing, inventory, design, student volunteer outreach and mentoring of others students who have in interest in community health and wellness

Q: What are some of the challenges you feel women face today?
CG: Balancing it all. It is a challenge to be an engaged parent, good partner / wife, and full-time employee / professional. I think it is important that we all focus on what we can do, not what we cannot, and lift each other.  
When I get the chance to work with young families, many whom work line level jobs … I remember what it was like during those "survival years": young family – financial challenges – pressures at work – pressures from your child's school. It is not easy and is incredibly stressful at times.  

Q: What advice would you give to young women who want to pursue a career as a nonprofit leader? 
CG: It is a ministry. I joke that the nonprofit life found me. In a million years, I would of never of guessed this as my path. My advice: Surround yourself with positive professionals, people with skill sets different then your own, aligned nonprofits, mentors, and stick with it.  
Five Things About Colleen Gonzalez

1.If you could talk to one famous person past or present, who would it be and why? 
Michelle Obama –her mission for health and wellness inspires me
2. Where is the most interesting place you've been?
Sweden and Norway at Christmas with my family.  
3. Is there any product that you couldn't live without? 
Oh – gosh …. All my running swag. ANYONE can run if you have the proper shoes, apparel, and nutrition. When I hear people say, "I can't …." I tell them, you can, you just need the proper equipment starting with your shoes.  
4. What do you wish you knew more about? 
Fundraising. I am a wonderful organizer and planner. Fundraising is NOT my superpower. If I won, the lotto … I would do some serious good! 
5. What's one thing that can instantly make your day better?  
My family! I have been married for 24 years to my High School Sweetheart, Luis Gonzalez who is the Regulatory Affairs and Commercial Counsel for Republic National Distributing Company. My daughter Morgan who attends Seminole State College, my son Izaac who is a Junior at Lyman High school, and of course our fur baby Duke who is a rescued German Shephard and is incredibly spoiled by us all.